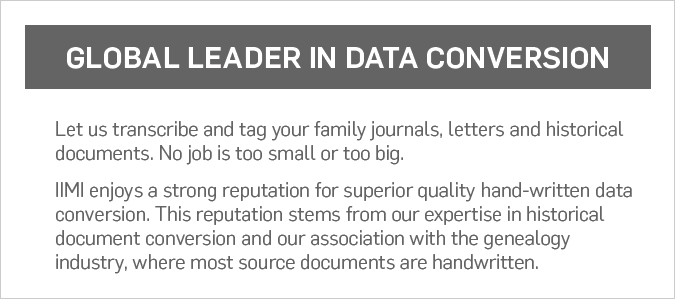 Historical and Genealogical Documents
Our historical data conversion services clients include ProQuest, IBM, the Library of Congress, Havas Interactive (Vivendi Universal Company), Broderbund Software, and the American Genealogical Lending Library, among others.
Genealogical data conversion
IIMI has performed data entry for nine historical U.S. censuses, consisting of more than 280 million names and covering census years 1790 to 1940. We also converted census data for Great Britain from 1841 to 1901. Finally, we digitized many vital records and several non-structured historical documents.
Hand-written data conversion
IIMI maintains a pool of skilled data-entry operators who are proficient in reading both cursive and non-cursive hand-written data. These skills are indispensable in capturing data from any hand-written source, including credit card applications, rebate forms, surveys, etc.
USA
Intelligent Image Management Inc.
2850 W. Horizon Ridge Parkway, Suite 200
Henderson, NV 89052, USA
T +1 (702) 430 4693
F +1 (702) 446 8310
Sri Lanka
Intelligent Image Management Lanka (Pvt.) Ltd.
36 A Nawala Road, Nugegoda
SRI LANKA
T +94 11 285 4704
Bangladesh
Intelligent Image Management Ltd.
House: 200, Road: 2
Baridhara DOHS, Dhaka 1206
BANGLADESH
T +880 2 8411086
India
Intelligent Image Management Inc.
5th Floor, Globsyn Crystal -1.
EP Block, Sector V
Salt Lake. Kolkata 700091
INDIA
T +91 89 610 03100
IIMI Asia Pacific Pvt. Ltd.
30 Cecil Street #19-08
Prudential Tower
SINGAPORE 049712